Fr. Pishoy Salama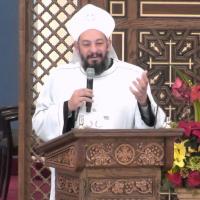 Fr. Pishoy was born in Giza, Egypt in 1970. He immigrated with his family to Toronto, Canada in 1984 where he completed his high school education. In 1993, he graduated from York University with a Bachelor of Arts in Math and Statistics. He served at St. Mark Coptic Orthodox Church in Toronto as a youth counsellor until he was ordained as a priest there on November 14, 1999.
On November 14, 2007, Fr. Pishoy was appointed by H.H. Pope Shenouda III to establish St. Maurice & St. Verena Coptic Orthodox Church, which is the first multicultural Coptic Orthodox Church in North America.
Fr. Pishoy graduated from Tyndale Seminary in May 2006 with a Master of Divinity degree in Youth and Family Ministry. That same year, he began his Doctor of Ministry degree at the University of Toronto and graduated in November 2012. The title of his dissertation is "Of All Nations: Exploring Intercultural Marriages in the Coptic Orthodox Church of the GTA." In January 2013, Fr. Pishoy was appointed as an Adjunct Professor of Theology at the University of Trinity College in the University of Toronto.
In January 2013, Fr. Pishoy received the Queen Elizabeth II Diamond Jubilee Medal for his efforts in promoting diversity and multiculturalism. This medal is offered to "honour outstanding citizens for their dedicated service to peers, community and province."
Fr. Pishoy led a major construction project to build a church and a cultural centre in Markham, Ontario. The building included a large sanctuary, banquet hall, gymnasium, childcare centre, fellowship hall, Sunday school classrooms, recording studio, and underground parking spaces. The building was inaugurated in 2016 and became a landmark in the city of Markham. In 2019, the church and cultural centre were recognized by Hon. Michael Tibollo, Minister of Tourism, H.W. Mayor Frank Scarpitti, and Hon. Bob Saroya, MP as a tourist attraction in the Province of Ontario. A major highway sign was placed on Hwy 404 to direct tourists to the centre. In addition, the church was listed in the Ontario Travel website: https://www.ontariotravel.net/en/listing/St-Maurice–St-Verena-Coptic-Orthodox-Church/203159.
In the fall semester of 2019, Fr. Pishoy completed a study sabbatical at Harvard Divinity School (HDS) as a Resident Fellow. His main areas of concentration were Religion, Gender, and Culture. An article published in the HDS newsletter captured Fr. Pishoy's experiences during his fellowship: https://hds.harvard.edu/news/using-hds-experience-inspire-others.
Fr. Pishoy is married to Sandra and has three children: Mary, David, and Andrew. His hobbies include reading and sports, especially basketball and soccer.